July 13, 2019, 07:38
Source: People's Daily Online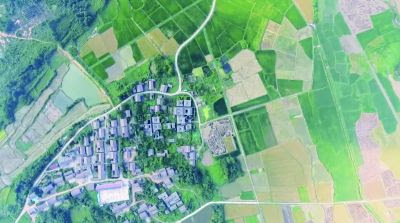 On June 11, the Development and Reform Commission of Jinxi County, Fuzhou City, Jiangxi Province announced the "Approval of the Proposal for the Phase I Construction Project of Dafang Village": "The construction of Phase I of Dafang Village is agreed in principle."
"I hope to start construction tomorrow." As one of the project partners, Herbert-Jan Hiep, a Dutch cultural heritage expert and director of the Dutch Cultural Heritage and Market Research Institute, can't wait for this project. As a member of the International Council of Monuments and Sites (ICOM), He Jiangbai (Herbert-Jan Hiep) has extensive experience in creating traditional cultural and creative development projects.
The encounter and fusion of Holland and Jinxi
Holland Creative Village is located in Xiugu Town, Jinxi County. According to Gao Lianzhu, deputy secretary of the Jinxi County Party Committee and County Mayor, the Dutch Creative Village project is an ancient village project jointly created by Jinxi County, China Culture Media Group and the Dutch Cultural Heritage and Market Research Institute (IVEM).

The project will draw on the Dutch cultural heritage protection and utilization experience, with the goal of revitalizing traditional Chinese farming culture, introducing Dutch creative culture and creating a "Dutch Creative Village".
There are 102 ancient villages in Jinxi County, ranking first in Jiangxi Province in number. Dafang Village, which has a history of more than 900 years, is one of them. There are many well-preserved ancient buildings in the Ming and Qing dynasties in the village. Despite the large number of ancient villages, He Jiangbai finally chose the project site in Dafang Village.

"This was determined by a comprehensive consideration of the location, scale, protection level and construction space." He Jiangbai said.
Visits to Jinxi
From May 26th to 29th, 2018, the working team of China Culture Media Group and the Dutch Institute of Cultural Heritage and Markets went to Jinxi County to inspect and held an expert symposium.

At the meeting, artists from the Netherlands presented their projects. He Jiangbai said that the expert team will integrate Dutch cultural elements into Dafang Village through its own efforts and creations, and turn Dafang Village into a cultural integration platform between Jinxi and the Netherlands.
"We hope to provide assistance in the concept and experience of protecting cultural relics and ancient buildings, and work with Chinese architects, designers, and workers to create a new vision for these old houses."
In fact, before that, He Jiangbai and the project team have visited Jinxi many times: From July 10 to 12, 2018, He Jiangbai and Xu Lian, the deputy editors of China Cultural News, went to Jinxi County to carry out the "Dutch Creative Village Research topic project inspection"

In September 2018, He Jiangbai and his team visited Jinxi County again and explained in detail the overall planning framework, architectural planning, planning for the water system and the river and the creative planning of Holland Creative Village.
"We will work hard to make Dafang Village what we want- a place where ancient buildings and new buildings are combined." When talking about the development goals of the Dutch Creative Village project, He Jiangbai said: "We want it to become a Western culture and a Chinese culture. A place where cultures meet. Not only meet, but through blending, new things are produced."
Create uniqueness and spread by word of mouth
In fact, He Jiangbai has not been associated with China and Chinese culture for a long time. In 2014, He Jiangbai came to China for the first time. Since then, he has fallen in love with China and has developed a keen interest in China's vast cultural heritage.

Slowly, He Jiangbai became the messenger of Dutch Culture plus Chinese culture. The Dutch Creative Village project is the most direct manifestation of Sino-Dutch cultural exchanges. "We hope that Chinese and Dutch artists can conduct cross-cultural exchanges in this ancient village with typical Chinese cultural characteristics and get some inspiration from cultural exchanges," said He Jiangbai.
On September 23, 2018, The vice-chairman of the Jiangxi Provincial Committee of the Chinese People's Political Consultative Conference and Secretary of the Fuzhou Municipal Committee, accompanied He Jiangbai and other experts to inspect the ancient village of Jinxi and expressed the hope that the experts would make full use of advanced international concepts and build Dafang Village into a fusion of Eastern and Western concepts.
The demonstration project will complement each other in the future new scenic hotspot "Sanweng Opera Garden" and together become a good story to illustrate the cultural exchanges between China and foreign countries.
Attracting foreign tourism
How can Dafang Village attract international tourists from the Netherlands and other countries to enhance cultural and tourism exchanges between China and foreign countries? In this regard, He Jiangbai said, "The most important method is to create uniqueness and spread by word of mouth."
In He Jiangbai's view, the average foreign tourists who come to China want to see the Great Wall, Tiananmen Square and the Forbidden City, but there are also some tourists who want to experience new things. For the Dutch Creative Village, first focus on this part of tourists, through their personal experience, to achieve word-of-mouth communication, and then gradually attract more foreign tourists to Dafang Village, and play the role of the project in promoting cultural tourism exchanges between China and foreign countries.
It is understood that China and the Netherlands have signed a cultural memorandum of understanding involving cooperation in the fields of film, creative industries, and museums. "We hope that China and the Netherlands can understand and cooperate with each other, and then create new things." When talking about Sino-Dutch cultural exchanges, He Jiangbai, who has participated in Sino-Dutch cultural tourism exchanges many times, said.
People and creativity are inseparable from rural revitalization
In 2018, Zhang Hongxing, deputy secretary of the Fuzhou Municipal Party Committee and Mayor, met with Dutch cultural heritage experts such as He Jiangbai and said that Dafang Village has a complete layout of ancient Chinese villages, a clear ancient village texture, and rich ancient buildings. He hopes to bring the Dutch creative village To become a model of rural revitalization and green development.
"The most important thing is people. People must be brought together." He Jiangbai said that the revitalization of the countryside cannot be done without people, and an atmosphere must be created to allow people to live freely in the countryside.
He Jiangbai fully affirmed China's ongoing construction of characteristic towns. At the same time, he also put forward suggestions for the homogeneity in the construction, "Innovate, don't copy, don't be afraid to try and create your own. New consumers have their own unique needs. In order to better construct projects, he brings more innovative thinking to Dafang Village, hoping to make Dafang Creative Village a distinctive creative park.
In recent years, the construction and development of China's cultural and creative industry parks has been in full swing. Although many achievements have been made, there are still some problems. "Creativity gathers here. This is a very important thing."
He Jiangbai introduced some experiences in the Netherlands: After the hardware facilities are built, they will be rented to creative people at low prices, and painters, artists and theatres gradually gather. Then the whole park slowly grows up…
"We will bring creative people and unlimited creativity. We hope that in Dafang Village and Jinxi County, the younger generation can be inspired, and we can do things in different ways." He Jiangbo said that the Dutch Creative Village project will use creativity to create a park. brand.
"Let it be a very interesting place for tourists and for the people who live here." He Jiangbai described the future of the Dafang Dutch Creative Village brand. (Lin Ruihua, Tang Zhicheng, Tan Mian)
(Editor in charge: Ding Tao, Cao Kun)



6月11日,江西省撫州市金溪縣發改委公布《關於大坊村一期建設項目建議書的批復》:"原則同意建設大坊村一期。"
"希望明天就開始建設。"作為項目合作方之一,荷蘭文化遺產專家、荷蘭文化遺產和市場研究院院長賀江柏(Herbert-Jan Hiep)對這個項目有些迫不及待。作為國際古跡遺址理事會成員,賀江柏在打造傳統文化創意發展項目方面有豐富的經驗。
荷蘭與金溪的相遇和交融
荷蘭創意村,位於金溪縣秀谷鎮。據金溪縣縣委副書記、縣長高連珠介紹,荷蘭創意村項目是由金溪縣、中國文化傳媒集團和荷蘭文化遺產和市場研究院三方共同打造的古村落項目。該項目將借助荷蘭文化遺產保護與利用經驗,以中國傳統農耕文化的活化利用為目的,引入荷蘭創意文化,打造"荷蘭創意村"。
金溪縣有古村落102個,數量居江西省第一,有900多年歷史的大坊村便是其中之一,村內擁有眾多保存良好的明清古建筑。盡管古村數量眾多,但賀江柏卻最終將項目地址選在大坊村,"這是綜合考慮地址位置、規模大小、保護級別及建設空間等因素而確定下來的。" 賀江柏表示。
5月26日至29日,中國文化傳媒集團和荷蘭文化遺產與市場研究院工作團隊深入金溪縣考察,並召開專家座談會。會上,來自荷蘭的藝術家們對其設計的項目進行了展示。賀江柏表示,專家團隊將通過自身的努力和創作,將荷蘭文化元素融入大坊村,將大坊村打造成金溪與荷蘭的文化融合平台。"我們希望在保護文物古建的理念和經驗方面提供幫助,和中國的建筑師、設計師、工人一起給這些老房子創造一種新的景象。"
其實,在這之前,賀江柏和項目工作團隊,多次來金溪考察:2018年7月10日至12日,中國文化報社副總編輯徐漣和賀江柏一行到金溪縣開展"荷蘭創意村"研究課題項目考察﹔2018年9月,賀江柏及其團隊再次到金溪縣考察,並對荷蘭創意村的總體規劃框架、建筑規劃、水系與河流創意規劃等內容進行詳細講解。
"我們將努力讓大坊村成為我們希望的樣子——一個古建筑和新建筑相結合的地方。"在談到荷蘭創意村項目發展目標時,賀江柏表示:"我們想讓它成為西方文化和中國文化相遇的地方。不僅是相遇,而且通過交融,產生新的東西。"
打造獨特性 靠口碑進行傳播
其實,賀江柏和中國、中國文化結緣的時間並不長。2014年,賀江柏第一次來到中國,從那之后,便愛上了中國,並對中國大量的文化遺產產生了濃厚興趣。慢慢的,賀江柏成為荷蘭文化和中國文化的溝通使者,荷蘭創意村項目是中荷文化交流最直接的體現。"我們期望,中荷藝術家們能在這個具有典型中國文化特色的古老村落,進行跨文化交流,並從文化交流中得到一些啟示。"賀江柏說道。
2018年9月23日,江西省政協副主席、撫州市委書記肖毅在陪同賀江柏等專家考察金溪古村落時表示,希望專家們充分利用國際先進理念,把大坊村打造成為東西方理念融合的示范項目,與今后的溫泉景區"三翁戲曲花園"交相輝映,共同成為闡述中外文化交流的佳話。
大坊村如何吸引來自荷蘭等國家的國際游客,增進中外文化旅游交流?對此,賀江柏表示,"最主要的方法是打造獨特性,靠口碑進行傳播"。
在賀江柏看來,一般的境外游客到中國,都想看長城、天安門和故宮等,但也有一部分游客想體驗新事物。對於荷蘭創意村,首先把重點放在這一部分游客身上,通過他們的親身體驗,實現口碑傳播,進而逐漸吸引更多國外游客來大坊村,發揮項目在推動中外文化旅游交流中的作用。
據了解,中荷兩國已簽署了文化諒解備忘錄,涉及電影、創意產業、博物館等領域的合作。"我們希望中荷兩國能夠相互了解、相互合作,然后創造新的東西。"在聊到中荷文化交流時,曾多次參與中荷文化旅游交流的賀江柏說道。
鄉村振興離不開人和創意
2018年,撫州市委副書記、市長張鴻星在會見賀江柏等荷蘭文化遺產有關專家時表示,大坊村有完整的中國古村落布局和清晰的古村落肌理,以及豐富的古建筑,他希望將荷蘭創意村打造成為一個鄉村振興、綠色發展的典范。
"最重要的是人,必須把人們聚集在一起。"賀江柏表示,鄉村振興離不開人,必須創造一種氛圍,讓人們在鄉村自由自在地生活。
對於中國正在進行的特色小鎮建設,賀江柏進行了充分的肯定,同時,對於建設中存在的同質化現象,他也提出了建議,"去創新,不要抄襲,不要害怕去嘗試、去創造屬於自己的東西。"新的消費者有自己的獨特需求,為了更好建設項目,他把更多的創新思維帶到大坊村,希望讓大坊創意村成為一個有特色的創意園區。
近幾年,中國文化創意產業園區建設發展如火如荼,雖取得了不少成績,但也存在一些問題。"創造力在這裡聚集,這是一件非常重要的事情。"賀江柏介紹了荷蘭的一些經驗:在硬件設施建好之后,會以低價出租給創意人群,畫家、藝術家和劇院逐漸聚集起來,便整個園區慢慢成長起來……
"我們將帶來創意人群和無限創意。我們希望,在大坊村、在金溪縣,年輕一代能夠得到啟發,我們可以用不同的方式做事。"賀江柏表示,荷蘭創意村項目將借助創意打造園區品牌。
"讓它成為一個對游客和對居住在這裡的人來說非常有趣的地方。"賀江柏這樣描述未來的大坊荷蘭創意村的品牌。(林瑞華 唐志成 談冕)
(責編:丁濤、曹昆)